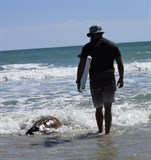 Big flippers, little flippers and every size in between left their mark on Topsail in the past few weeks. In between hatchings, hurricanes and rip currents we managed to get thirty-one of our "graduates" back home. Most of these guys and gals had been with us since they cold-stunned last winter so saying that everybody,
everybody
was ready for a change of scenery would be an understatement.
Of course, with Covid still marching across the country we did not see the usual multitudes of enthusiasts for the event. But over the course of three days enough lucky visitors found themselves on the beach at the right moment in time to cheer and clap as our turtles made their way to the surf.
The little guys, mostly greens with a few Kemp's thrown in (well, not literally) were the first to go. "Beasley Turtles" are known throughout the sea turtle world for being quite zaftig, okay, just plain fat when they leave rehab and these critters were no exception.
So even if it takes them a day or so to figure out that breakfast will no longer be served at 8 AM they will be just fine.
The final day was loggerheads on parade with four of them going, including big boy "Benthic" and cute-as-a-button "Breezy" who I swear smiled the entire time she flippered her way toward the waves. So, from one-hundred-ten turtles earlier this year we are now down to fifteen. Keep your fingers and flippers crossed for a long, mild fall and a not-too-frigid winter so we don't have a repeat of 2020, in so many ways!
Hatchings still happen and will for probably another few weeks. This year we need our visitors and locals to be even more vigilant as we are getting calls about tiny stragglers on the beaches in the mornings. Please report any and all sea turtle activity, including sick, injured (or dead) to our Director of Beach Operations, Terry Meyer at:
910-470-2880
. Alternate numbers for emergencies are Director Jean Beasley at:
910-470-2800
or the State of NC hotline for stranded, sick and injured turtles at:
252-241-7367
. The state number picks up 24/7.
Due to Covid we will regretfully remain closed to the public for the remainder of 2020. But that doesn't mean you can't get your turtle-wear and check things off your holiday shopping list. If you're in town drive around the building and window shop for some of our gift shop merchandise. When you see something you like just call in your order (
910-329-0222
) and pick it up at that time.
You can also shop by phone @
910-329-0222
Monday through Thursday from 9 AM to Noon to place your order and arrange a pick-up time. Our on-line ordering for merchandise is now up and running. Please visit our Facebook page or website for details.