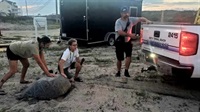 Sea Turtle Hospital News
Q: Why did the large green mama sea turtle cross the road?
A: She was determined to bury what was probably her last clutch of eggs before she headed home one last time for some well-deserved R&R.
Our Turtle Project volunteers were awestruck by the effort that it took for her to drag her very large body hundreds of yards from the shore to a vacant lot on the other side of a street on the north end of the island. And then proceed to dig a sizeable and very deep nest for her babes! But as they pondered this feat the lady remained as silent as the Sphinx, refusing to elaborate on why she bypassed the dunes and kept on going. Regardless, she was never going to make it back home on her own.
So, who you gonna call when you're standing around a turtle weighing north of 300-lbs. who needs a ride? North Topsail Beach Fire and EMS raced over with their truck, and muscle. This gal was no lightweight, and sea turtles generally do not take kindly to being man (or woman) handled. But she was probably so exhausted from her ordeal that she didn't put up much of a fight as they hoisted her up into the bed of the rescue vehicle.
Thankfully, this story has a happy ending. Her nest was safely relocated by our Turtle Project volunteers and mama turtle was driven to the beach where Mother Ocean welcomed her home with a beautiful sunrise.
Meanwhile, back at the
ranch (Karen Beasley Sea Turtle Rescue and Rehabilitaiton Center
) we've been quite busy. Dr. Harms brought six of his veterinary students for their two-week immersion into our world. And we still have a houseful, so they had a lot of patients for their case studies. In addition to exams and records they helped with feeding and general turtle care. And as fate would have it, we had just admitted a small Kemp's, "Reggie" who had been rescued down in the Carolina Beach area. Typical Kemp's, he was out cruising for an easy lunch and swallowed a hook along with it. Reggie was radiographed, and Dr. Harms was able to extract the hook (a large hook) with a minimum of trauma. But Reggie will have a sore throat for a few days.
Dr. Harms gave his blessing to more of our patients to go home so we'll have a few "turtle flash mob" releases very soon. There is no advance public notice: it's a Covid world now, even for turtle releases. Jean looks for a day with the most favorable weather and tides, and around here that changes from minute to minute. When things look advantageous we load 'em up, head to the beach and set them free
Our
"turtle drive-by" events
have been so successful we're scheduling them into the fall. Load the kids into the family truckster and head over to our hospital for a close encounter with one of our patients. It's a Covid-safe family-friendly visit to the hospital where you remain in your car while you interact with our masked and socially distanced staff who will have one or more of our turtles outside in the sun and fresh air – the little ones of course! You'll get to see them even closer than you would from our observation ramp. Watch our website and
Facebook page
for upcoming dates for drive-bys. This is your only opportunity to see a turtle and meet some of our staff as we feel it is still not safe to open for tours.
As you drive around the building take time to window shop for some of our gift shop merchandise. When you see something you like just call in your order (
910-329-0222
) and pick it up at that time. You can also shop by phone @
910-329-0222
Monday through Thursday from 9 AM to Noon to place your order and arrange a pick-up time. Our on-line ordering for merchandise is now up and running. Please visit our Facebook page or website for details.
Hatching will continue into October, and there will be more stories to tell as we move into this exciting phase. But we can't be everywhere all the time, so we rely on our visitors and locals to report any and all turtle activity to our Director of Beach Operations, Terry Meyer at:
910-470-2880
. And please be on the lookout for any turtle in distress, injured (or dead) and call Terry, Hospital Director, Jean Beasley at:
910-470-2800
or the State of NC hotline for stranded, sick and injured turtles at:
252-241-7367
. The state number picks up 24/7.