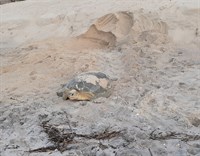 Sea Turtle Hospital News
The Topsail turtle mamas are officially off the clock at the end of August and are heading back out for a well-deserved rest after blessing us with over one-hundred nests. You just never know what kind of a year you're going to have so this much activity was certainly a welcome surprise. Now that the hard work is done, at least by the turtles, it's up to the babes snuggled down in the sand to stay warm, grow big and strong and make plans for the day when they're ready to start the journey of their lives.
But before we talk about hatchlings let's give a shout-out to an incredibly determined green turtle mom. Topsail is known as pretty much loggerhead territory, so most of the nests are loggerhead. But every so often we get a visit from a green turtle. These gals are built differently and travel the sand in a dragging motion rather than the alternating one-flipper-at-a time loggerhead movement. And their flippers are huge compared to loggerheads so their tracks are generally wider. But for some reason they tend to get themselves stuck when they do come here: last year behind the stairway of a crossover and this time in the soft sand of the dune. Luckily, our Turtle Project volunteers were on the job and rushed to her rescue, getting her out of the dune and directing her safely back into the water.
As the incubation period, generally about sixty days nears, our
Turtle Project
volunteers will begin closely monitoring the nests for any signs of activity. As the babies begin to hatch they break out of their shell with a special egg tooth (a caruncle) and begin waking their siblings with a lot of kicking and flippers-in-the-face. The sand at the surface of the nest will begin to sink. While our volunteers stage the area by ramping and smoothing the sand into a runway down below the activity heats up. The hatchlings work together, kicking and moving towards the surface where they congregate and wait: wait for the sun to set and the sand to cool. That's their cue that it's about a safe as it's going to get to "boil" out and make a run for the water. And our volunteers are there, working the night shift to make sure their path is cleared and they make it into the surf.
Hatching will continue into October, and there will be more stories to tell as we move into this exciting phase. But we can't be everywhere all the time, so we rely on our visitors and locals to report any and all turtle activity to our Director of Beach Operations, Terry Meyer at:
910-470-2880
. And please be on the lookout for any turtle in distress, injured (or dead) and call Terry, Hospital Director, Jean Beasley at:
910-470-2800
or the State of NC hotline for stranded, sick and injured turtles at:
252-241-7367
. The state number picks up 24/7. Remember that interfering or harassing federally protected sea turtles in any way makes you subject to steep fines and possible imprisonment.
We're still ruled by Covid and the restrictions of our governor, so we're not open to the public, and our crystal ball is fuzzy. We will not open if we feel that it cannot be done legally, or that it jeopardizes the health and safety of our staff or visitors. But we have "Plan B." You can't come in to see them, but some of our turtles can come out to see you.
If you missed our last "turtle drive-by" event stay tuned because it was so successful we're scheduling more of them. Pack the Prius with your family for a Covid-safe visit to the hospital where you remain in your car while you interact with our masked and socially distanced staff who will have one or more of our turtles outside in the sun and fresh air – the little ones of course! You'll get to see them even closer than you would from our observation ramp. Watch our
website
and
Facebook
page for the next opportunity to visit with us.
Covid has obviously had an impact on our finances as we rely totally on donations and sales from our gift shop to fund our work. We do have limited gift shop options available for locals and visitors so you can check out our windows during the drive-by, call in your order (
910-329-0222
) and pick it up that day. You can also shop by phone @
910-329-0222
Monday through Thursday from 9 AM to Noon. Ask for Peggy, your "personal shopper," and arrange a pick-up time. Our on-line ordering for merchandise is now up and running. Please visit our Facebook page or website for details.
The sea turtle hospital update by Karen Sota