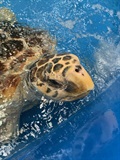 Sea Turtle Hospital News
What a difference year makes. We're all living in the time of Covid, and by now you're aware of how it's turned our usual summer at the hospital upside-down. No tours: no chance for you to meet our patients and learn about their success stories; no beaches filled with cheering crowds waving goodbye to our turtles as they head back home. Bummer of a summer for all of us.
But inside our building the work never stops. Loggerhead "Myrtle" is one of the success stories we'd love to share with you. Myrtle was admitted on July 9
th
of last year. We got a call from a genuinely concerned visitor down in the New Hanover County who found her trapped and injured in a tidal pool on the intracoastal. Myrtle was the unfortunate victim of a boat impact, with multiple prop injuries. As you might image that's not much of a fair fight with the boat nearly always the victor.
When Wrightsville Beach Sea Turtle Project Director Nancy Fahey arrived with Myrtle we were horrified. Her injuries were obviously life-threatening, and she was covered with barnacles and bloated with edema. Everywhere we looked, carapace, head, flippers – there was something that needed experienced veterinary attention. And that was only what we could see on the outside.
Once Myrtle was settled in her tank we began a protocol of medications to relieve pain and begin fighting infection. Arrangements were made to quickly transport her to the NC State School of Veterinary Medicine for additional tests and surgery where they determined she also had a gut full of sand and damage to her right lung. Much later in the day Myrtle returned to our hospital after successful surgery and sporting some shiny jewelry – seven compression plates holding her back together.
That was only the beginning of a very long year of extensive wound care treatments by our staff. Myrtle was a model patient; never complaining, patiently enduring her treatment and always eager to eat whatever we offered. She survived because our mission is to never, ever give up on a turtle. But more importantly she made the decision to survive, and she fought hard.
About a month ago Myrtle graduated to a large tank in Big House, Sea Turtle Bay, last stop before release. While it's still uncertain exactly when that might happen she's one beautiful lady, always eager to visit us at the side of her tank looking at us with grateful eyes and I swear a smile on her face.
We're still on Covid shutdown with no idea if and when we will open to the public. It makes us sad, not only for the visitors but for the turtles who seem to miss some of the activity. We will not open if we feel that it cannot be done legally, or that it jeopardizes the health and safety of our staff or visitors. This has obviously had an impact on our finances as we rely total on donations and sales from our gift shop to fund our work. We do have limited gift shop options available for locals and visitors. You can window shop at the hospital where we have our most popular items on display and then order by phone @
910-329-0222
Monday through Thursday from 9 AM to Noon. Ask for Peggy, your "personal shopper," and arrange a pick-up time. Our on-line ordering for merchandise is now up and running. Please visit our Facebook page or website for details.
We're in crossover season where we have nesting and hatching going on at the same time. Even with all the coverage by our Topsail Turtle Project volunteers it's possible to miss nesting or hatching signs for a variety of reasons. That's why we ask you to be our extra eyes and to report any turtle activity to our Director of Beach Operations, Terry Meyer at:
910-470-2880
. And we continue to admit many turtles with various injuries or illnesses. Please be on the lookout for any turtle in distress, injured (or dead) and call Terry, Hospital Director, Jean Beasley at:
910-470-2800
or the State of NC hotline for stranded, sick and injured turtles at:
252-241-7367
. The state number picks up 24/7. Remember that interfering or harassing federally protected sea turtles in any way makes you subject to steep fines and possible imprisonment
By Karen Sota