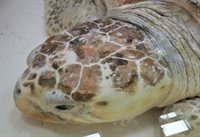 Sea Turtle Hospital News
Regular readers might recall that this past winter we honored our courageous astronauts by naming many of our one-hundred-ten cold-stunned patients after them. Maybe you've even been lucky enough to catch one of our "turtle flash mob" releases over the past few months where our volunteers suddenly appear somewhere on Topsail (masked and socially distancing) with those turtles in hand. Our "aquanauts" will continue to leave the hospital over the summer as more turtles arrive, including one named "Spock."
Spock was admitted on June 4th after being rescued in Holden Beach with several hooks embedded in his carapace. Even though he was a bit of a mess our volunteers immediately fell in love with him. We could see that underneath the mud, barnacles and leeches there was one cute little loggerhead. (Note: a ninety-pound loggerhead is considered "little" to us). But he needed some relatively quick attention from Dr. Harms, not only to get those hooks out but to undergo a thorough exam. Although he wasn't in the worst shape this poor "kid" had already developed a cataract in his left eye. We've seen more and more loggerheads presenting with cataracts and the exact reason remains subject to speculation, just as the exact reason for Spock's debilitated condition remains a mystery. Was he cold stunned at some point over the winter? Did he eat something he shouldn't have, or spend too much time in polluted water? When turtles arrive as basically just "sick" we can only rely on our over two decades of experience as to what to do next.
Spock was put on our regular protocol of fluids and antibiotics as well as lots of nutritious food, daily baths and topical treatments. The little guy cleaned up nicely and started gaining weight and was soon moved into our big house, Sea Turtle Bay to continue his recovery. But as sometimes happens he developed an unforeseen problem during his recovery; he started listing and floating when put in deeper water. We've learned over the years that when this happens if we lower the water level the buoyancy problem will generally resolve over time – we hope. We've yet to pin down the problem, so Spock is being carefully monitored for possible pneumonia as well as any other obvious changes. One thing that won't change is that Spock is just stinkin' cute!
Nesting season continues with this year's numbers in the sixties so far. And now we're in the overlap when we start monitoring not only for nests but for hatchings. Our Turtle Project volunteers will be busy day and night for the next few months, and you can help by reporting any sea turtle activity (nestings, hatching, strandings, injuries) to Terry Meyer @ 910-470-2880
or Jean Beasley @ 910-470-2800 . We will also pick up on the hospital line ( 910-329-0222 ) if the call comes into us during general hospital hours. The state of NC also has a stranding hotline that picks up 24/7: 252-241-7367 .
So, when will be open to the public? With the spiraling uptick in Covid activity and the extension of any phased reopening for the state it's looking questionable for some time. We're not any happier than you are but we will not open if we feel that it cannot be done legally, or that it jeopardizes the health and safety of our staff or visitors. If our volunteers start dropping there is nobody to take care of the over fifty patients we still have in house. It's been stressful for Jean and our Board who are diligent in managing our resources to ensure that we can continue our high level of turtle care without our main source of income from tours and gift shop sales. We have begun limited gift shop options for locals and visitors who can order by phone and pick up during the week, and soon our on-line ordering will be up and running. Please visit our Facebook page or website for details and watch for our totally revamped website soon.