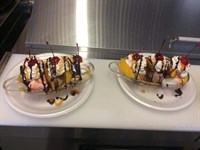 Pender County and the Topsail Island area has many great places to satisfy your sweet tooth and those hot days with many ice cream & frozen treats to choose from with all kinds, flavors, and toppings! Check out some of our favorite ice cream shops.
Olde Carolina Eatery
Step back in time and visit Old Carolina Eatery for your favorite old-fashioned snack or fresh-squeezed orangeade, ice-cream, pies, cookies, & brownies. Whatever you need our friendly staff will gladly serve you.
111 S Wright Street
Burgaw, NC 28425
(910) 789-3844
oldecarolinaeatery.com
www.facebook.com/Olde-Carolina-Eatery
Island Crush Italian Ice
In Italy, it's called Sorbetto here in Surf City we call it Italian Ice. So creamy, It's similar to ice cream but without the heavy feeling of cream and calories. Come on by to try a free sample! We are located in the IGA shopping center in the heart of Surf City, NC with outdoor seating for you to enjoy with your friends and family while you cool off with a tasty Italian Ice treat!!
205 Roland Ave
Surf City, NC 28445
(910) 541-1231
www.facebook.com/Islandcrush
Island Delights
Island Delights is dedicated to serving only the best with 22 flavors of hand-dipped ice cream and soft serve, your favorite shake, sundae, float, banana split, hot fudge brownie delight, cones and much more. Of course, your visit to Island Delights is never complete until you enjoy your favorite OLDIES on one of two vintage Jukeboxes. Island Delights-Where eating is fun!
316 N New River Drive
Surf City, NC 28445
(910) 328-1868
www.islanddelightssurfcity.com
www.facebook.com/IslandDelights
Hot Diggity Dogz
Outdoor concessions located right across from the Roland Ave. beach access. We have the best dogs on the Beach! We also have milkshakes, ice cream, sundaes, and more.
103 S. Shore Dr.
Surf City, NC 28445
(252) 943-5383
www.facebook.com/Hot-Diggity-Dogz
Locals Ice Cream
Fruit Smoothies, Cold Brewed Iced Coffee,
Soft Serve and Blue Bell Hand Dipped Ice Cream.
106 B. N New River Dr.
Surf City, NC 28445
(910) 328-3100
www.facebook.com/LocalsIceCreamShop
Pelican's SnoBalls
Born from a New Orleans tradition of combining smooth fluffy snow with bold flavors, Pelican's SnoBalls has been serving over 100 fantastic flavors to its customers for almost 20 years! Come visit us to find your favorite flavor!
204 C N. New River Dr.
Surf City, NC 28445
(910) 515-1918
pelicanssnoballs.com
www.facebook.com/pelicansofsurfcity
Surf City Ocean Pier Grill and Ice Cream
Conveniently located inside the Surf City Ocean Pier. Try our our Homemade Waffle Cones & 16 flavors of Hershey's ice cream or our weekly Soft serve specials. Create a sundae or an old fashion milkshake with your lunch or dinner.
112 S. Shore Dr.
Surf City, NC 28445
(910) 328-3521
surfcityoceanpier.com/the-grill.html
www.facebook.com/SCPGrill
Sweet Island
Formally, Beach Bunny Subs and Grill. Now Sweet Island of Surf City! Still serving the same amazing food. Come for coffee and breakfast or stop by for lunch and try one of our great appetizers, burgers, hotdogs or sandwiches. And don't forget the ice cream for dessert!
306 Roland Ave
Surf City, NC 28445
(910) 622-2276
www.facebook.com/Sweet-Island
The Daily Grind
Fresh hot donuts, espresso, specialty coffees, iced coffee, cold brew, hot and iced lattes, smoothies, frappes, bagels, muffins, cakes, ice cream, shakes and more!
114 N Topsail Dr.
Surf City, NC 28445
(910) 541-0471
https://the-daily-grind-surf-city.business.site
www.facebook.com/dailygrindsurfcity
The Snow Factory
We serve Thai pan-fry ICE CREAM ROLL. It is "cooked" on a hibachi table that's kept at -10 degrees. The ice cream is mixed with fresh fruit and real ingredients, and the chopped and stirred until it's crystallized. Try some classic favorites or go with traditional Thai flavors.
124B N. New River Dr.
Surf City, NC 28445
(910) 541-2788
www.snowfactorystl.com
www.facebook.com/snowfactory124
Tiki Turtles Ice Creams, Boba Milk Teas & Shakes
Homemade Ice Creams, Boba Milk Teas, Milkshakes, Homemade Whip Creams, Coffee and Tea Lattes, Summer Mocktails, Smoothies, Custom Sodas, Scooped Dippin' Dots, Baked Good
13500 Hwy 50, Suite 108
Surf City, NC 28445
(910) 803-0873
tikiturtlesicecreamsandmocktails.business.site
www.facebook.com/mytikiturtle
Sugar Kingdom
Where candy is just the beginning! At Sugar Kingdom, we are making the sweet taste of candy an inviting experience for children and grownups alike. Sugar Kingdom is a place the whole family will enjoy. It can make the glummest days bright and happy. We carry everything from fudge, taffy,
ice-cream,
and popcorn to cotton candy, gourmet chocolate, slushies and desserts
125 N. Topsail Dr.
Surf City, NC 28445
(843) 455-7171
www.sugarkingdom.com
Patio Playground
We are the only Putt-Putt on the island. Family-friendly for all ages. Original 1955 retro putt-putt. We have
ice-cream
, bike rentals and an air-conditioned arcade. DJ on Wednesday, Thursday and Friday nights plays oldies and break out your dancing shoes for Friday night DJ Dance Party and golf!
807 S Anderson Blvd.
Topsail Beach, NC 28445
(910) 616-2814
facebook.com/Patio-Playground-the-Putt-Putt
Ice Cream City
Homemade Ice-cream at its best! Come on down and get a taste of what everyone is talking about. See you soon!
15919 US Hwy 17 N. UNIT F
Hampstead, NC 28443
(910) 406-1018
www.facebook.com/icecreamcity1
Hollands Shelter Creek II Restaurant and Bar
Come to Holland's located in Holly Ridge at the Pender County line. Once located in Burgaw, we serve up Cajun and Country cooking. A favorite is their hand scooped ice-cream after you eat or why night while you wait!!
756 East Ocean Road
Holly Ridge, NC 28443
(910) 803-2224
www.hollandsshelter.com
www.facebook.com/hollandsshelter