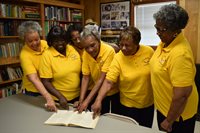 ROCKY POINT – For those under the age of 60, it's almost impossible to imagine segregated public schools. African Americans were taxed to support a public-school system, but it was up to them to build schools and provide bus service for their children.
In 1917, the African American citizens of Rocky Point collected $400 for a four-room school building. The county and the Julius Rosenwald Fund supplemented the cost of the building. Rosenwald, part owner and leader of Sears Roebuck and Company, created a fund of his assets to assist African American schools.
Effie Stallings, who wrote a history on the Pender County Training School, said the school opened in the winter of 1917-1918 with an enrollment of 218 students in the first through seventh grades. The school opened with just two teachers, but within weeks added two additional teachers due to the demand for a solid education. Within five years, the school's faculty numbered eight teachers.
As buildings were added and school bus transportation for students was provided in 1926, student enrollment increased to 369 with a total of 11 teachers. By 1938 more than 602 students were enrolled and the faculty numbered 21.
Mary Nixon said the Pender County Training School transformed from one building to several in a campus setting, adding the Anderson Building and Murphy Hall.
"The campus had several buildings – the agricultural building, a junior high, a gymnasium, a cannery, a science building and library, a home economics building and two houses for teachers and the principal," said Marie Williams, Class of 1962.
"And the canteen," Esta Stringfield, a 1969 graduate, added. "We had the best meals in the world."
The school's name changed through the years including the Rocky Point Training School and South Pender High School.
While the school's name may have changed, the constant was the quality of education.
"We had good schools," said Stringfield. "It was like a college campus. We didn't have study halls. We were in classes on campus. It prepped us for college."
Pender County/Rocky Point Training School and later known as South Pender High, located along 117 just south of NC 210, included African American students from Hampstead and points west.
"Our alumni included doctors, lawyers, professors, military personnel, post masters, the first African American county commissioner, singers, a doctor of physics – renowned people such as US Ambassador Mattie Sharpless," said Rosalind Smith, Class of 1963.
"We had used books from the white schools," recalled Stringfield. "We had book fees and we didn't dare lose or damage a textbook."
Alumni remembered the pot belly stoves that heated classrooms. The boys took turns adding coals to the fire. There were no indoor restrooms. Students used outbuildings. And there was no air conditioning.
Stringfield said the educators took pride in the students. Photographs of the training school's educators and principals don the entrance way to the Rocky Point Alumni Museum and Community Building.
"The teachers visited our parents," said Stringfield.
Ida Canady, 1966 alumni, said teachers and principals were held to a dress code of stockings and heels for the females and shirt and ties for the males.
The school encouraged extra-curricular activities. Rocky Point Training School had a baseball and basketball team. There were cheerleaders, band, choir, and a glee club that won top honors in the county.
"We had a Crown and Scepter Club and a drama class," added Nixon, a former South Pender cheerleader.
"We had a movie on Fridays," recalled Ida Canady. "Most of them were Western serials with actors like Roy Rogers and Dale Evens. For 5 cents you could get apples and popcorn to eat in the movie. Those were fun and you always had to come back next week to see what happened in the next episode."
In 1966, students in the Pender County Training School were given the options of attending Burgaw High, CF Pope, or Topsail High School, explained Stringfield. The school's name changed that year to South Pender High School. In 1968, the Rosenwald Schools were closed, and desegregation was law. South Pender High School graduated its last class in 1968.
"We wanted to keep these memories alive," Smith said. "We wanted to keep the school name alive and we needed a place to call home."
The original school property was not available for purchase.
Alumni purchased land on Shaw Hwy in Rocky Point. A museum and community building was built in 2028.
"We are collecting memorabilia for the museum," said Smith. "We wanted the museum for students to learn about the school today," said Smith.
The spacious community building seats 296 guest. It is outfitted with long tables, a small kitchenette, and a spacious center foyer.
"We rent this facility for class reunions, parties, receptions and gatherings," said Smith. "Our goal, someday is to add a kitchen and storage area."
The Rocky Point Training School Museum and Community Building is located at 1814 Shaw Hwy. For information regarding rental, call
910-675-0740
.