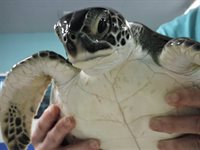 As the weather and the waters turn chilly, the doors of the
Karen Beasley Sea Turtle Hospital
close to visitors – that's human visitors, specifically.
However, the hospital doors swing wide to
accept new patients
.
And it's time for an influx of cold stunned turtles.
These poor little creatures get caught in chilly waters and it distresses their systems. Sea turtles, as in all reptiles, rely on external sources for body heat. When exposed to 50-degree or colder waters, sea turtles body temperature drops with their heart rate and circulation.
Cold stuns are lethargic and often mistaken for dead.
The
Karen Beasley Sea Turtle Rescue and Rehabilitation Center
cares for cold stunned sea turtles every winter season. One year they cared for as many as 93 cold stunned patients.
If you are walking along the shores of the Atlantic, the Intracoastal Waterway or sounds in Pender County, the
Karen Beasley Sea Turtle Hospital
offers this advice: Pick up the turtle gently and relocate it to a car, garage, or an unheated outbuilding.
Never attempt to warm the turtle. The quick swing in temperatures can cause this weakened critter to go into shock.
Call the Karen Beasley Sea Turtle Hospital at
910-329-0222
, or volunteers at 910-47-2880. A volunteer will send volunteers to retrieve your rescued turtle.
The state of North Carolina has a stranding hotline that is available every day, every hour. To report a cold stun or injured sea turtle you may also call
252-241-7367
.
The Karen Beasley Sea Turtle Hospital is completely volunteer-driven. If you would like to volunteer or donate to the sea turtle hospital call
910-329-0222
or visit them
online.