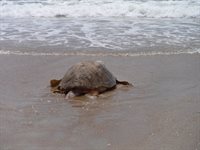 Sea Turtle Hospital News
Our
patients
may not have calendars with "save the date" hanging in their tanks but they all seemed to sense that something special was happening very soon. Our volunteers spent the week prior to June 5
giving them extra pats on their carapaces, maybe sneaking a few extra squid into their breakfasts and saying their goodbyes. Then last Wednesday we loaded up 20 rehabilitated sea turtles and sent them back home to Mother Ocean.
Loggerheads ruled the release with two staff favorites "Big Guy" and "Dutchman" getting a ride down the beach on our turtle taxis along with many of the "Who" loggerheads that came in over the winter. They were followed by a bunch of the "Mayberry" greens who were making it increasingly clear that they were pretty much done with our hospital, and our hospitality. Lone Kemp's "Kenny" rounded out the group. If that sounds like a lot of turtles it was, but we still have many more at the hospital scheduled to leave us over the next few months. Keep your eyes peeled and you may just find yourself on the beach as we crest a crossover with a turtle or two tucked under our flippers.
We're rolling along on our summer tour schedule: we're open daily (EXCEPT Wednesdays and Sundays) from Noon – 4 PM. Lines can be long even early in the summer so prep for your visit by making sure that you are well hydrated and are wearing sunscreen. Many people bring an umbrella for shade if it's a hot and sunny day. The tour lasts approximately one hour once you are inside. Hope to see you soon at the
Karen Beasley Sea Turtle Rescue and Rehabilitation Center
in Surf City. Make us an adventure while visiting
Topsail Island
.