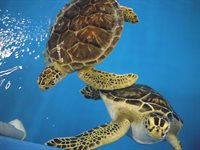 Sea Turtle Hospital News
Those crazy Kemp's are still going after our local pier pickings. They're being snagged so quickly that we no sooner get one in, "de-hook" them and get them settled in a tank than we're getting another phone call with one or more en-route. Veteran anglers pretty much know the drill by now, but if it's your first close-up with a hooked turtle the two most important things to remember are: DO NOT pull out the hook, especially if they appear to have swallowed it; and please leave about two feet of line attached to the hook(s) before cutting away any of your gear. The pier managers can assist you with the process, and have the contact information to ensure that the turtle gets the proper follow-up care at our hospital.
We've got nests!!
Last week the ladies decided that it was time to start their families. As of this writing we have two nests on Topsail. Our Turtle Project volunteers are on the hunt every morning, scouring all twenty-six miles of our beaches looking for tracks and staking out verified nests. Turtles don't always check their watch before heading in to nest so there are occasional stragglers who are still finishing up in the wee hours of the morning. If you happen to see a nesting mom please back away and give her some space to finish this critical work. And immediately call our Director of Beach Operations, Terry Meyer at 910-470-2880 with your location and any other information.
June means big doings at the hospital
. Our eight summer interns (nine counting lead intern Caroline who's been with us since last summer) are now on board and going through sea turtle boot camp. You'll meet them in this column over the next few months and also if you're coming for a tour. And – what everybody waits for – we have a horde of rambunctious turtles who will be going home in the very near future. Watch our Facebook page for details on the June releases.
Tours:
by popular demand we are going to our summer schedule a bit earlier this year. Until June 1
st
we will be open only on Thursdays and Saturdays from 1-4 PM. We will NOT be open for tours on Saturday, May 26
th
. Beginning June 1
st
we will open daily, EXCEPT Wednesdays and Sundays, from Noon – 4 PM.
Please continue to report any sea turtle sightings
(nestings, strandings, injuries) to Terry Meyer @ 910-470-2880 or Jean Beasley @ 910-470-2800. We will also pick up on the hospital line (910-329-0222) if the call comes into us during general hospital hours. The state of NC also has a stranding hotline that picks up 24/7: 252-241-7367