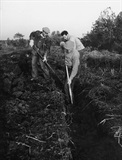 Nine Jewish refugee families rescued from the Holocaust in Germany by a heroic effort in 1939 were settled in an obscure rural community near Burgaw, North Carolina. A North Carolina Highway Historical Marker to commemorate this will be dedicated Wednesday, April 18, at 2 p.m. at Pender County Public Library in Burgaw. A special guest will be Ann Wolf Loeb who arrived at Van Eeden from Germany with her family in 1940.
The free program open to the public will honor the organizer of the remarkable rescue, Dr. Alvin Johnson, and the stories of the German Jewish families whose lives were saved. Speaking will be Jerry Klinger, president of the Jewish American Society for Historic Preservation, who nominated the story for this State of North Carolina recognition.
Also speaking will be history author Susan Taylor Block, who collected family stories and titled her book, Van Eeden, after the name of the agricultural community, Michael Hill Supervisor of the Research Branch of the NC Division of Archives and History will speak as well.
Klinger said, "Van Eeden holds not only state significance, but national significance. Alvin Johnson, one of the founders of New York's New School, with financial backing from Hiram Halle, both men not Jewish, found a way to save some Jews from execution." Johnson had already saved European scholars and professors of Jewish descent forming what he called the "University of Exiles" at the New School in New York City.
But by 1939, "the U.S. State Department, imbued with antisemitism, did not care if a Jewish refugee trapped in Europe was an academic, a scientist, a researcher, or a professor, who desperately sought to escape the Nazis and death. They simply did not want more Jews coming to America," Klinger said.
"Alvin Johnson looked upon Jews differently. He learned there was a back door to saving life," he continued. "If a refugee was a farmer, the State Department was willing to let them come to America, even begrudgingly, Jewish refugee farmers. Johnson's simple solution was to have Jewish academics classified as farmers," said Klinger. However, one condition was they must have farm land in America to settle on before they could enter the country.
Hugh MacRae in Wilmington had 1,080 acres in Pender County already divided into small farms with small, rustic houses vacant since the early 1900s. MacRae had originally recruited farmers from Holland to establish models of intensive agricultural techniques, but it quickly failed and they moved away. MacRae knew Alvin Johnson and sold him the land to help the effort.
Most of the Jewish refugees knew nothing about farming. "Problems soon emerged, as the resettlement of urban sophisticates with little farm experience to rural North Carolina proved challenging. Crops suffered. There were snakes and mosquitoes," said Michael Hill.
"They made the best of a bad situation, but as historian Leonard Rogoff has written, "Burgaw was not Berlin," said Hill. But as Klinger points out, "Johnson had the fortitude to fight the State Department. Halle had the money. The land was in North Carolina. The community in Pender received the unlikely Jewish "farmers" and helped them as much as they could."
Fred Loeb was fifteen years old and Ann Wolf was thirteen when their families escaped certain death in Germany and landed in Pender County. "I could sleep at night and not worry," Fred Loeb said. "The most important thing was that we were free; free from the oppression of Europe." While World War II raged and millions died overseas, he and Ann finished high school. Ann's father, Max Wolfe, was the only one who had any agricultural knowledge. He started a dairy farm at Van Eeden and they were the last to leave in 1947.
Fred Loeb joined the U.S. Army to fight Hitler's Nazis. After the war, Fred married Ann Wolf. The newly wed Loebs ran a kosher bakery eventually settling in Maryland. Over the years, the couple returned to the area frequently. In 1995, they were interviewed by the Wilmington Star News during their 50th Penderlea High School class reunion.
According to Mr. Loeb, his family worked very hard and were very happy at Van Eeden, but most importantly they survived. "We would not have survived in Europe," he said. "
Loeb continued, "We come back because we made friends and stayed in contact with them," he said. At first, they weren't sure what to think of us. I don't think they'd ever seen a Jewish person before…but after a while they accepted us. Now they run up to hug and kiss us, because we're friends."
In a letter to Mr. McRae quoted in Ms. Block's book, Dr. Johnson wrote of his disappointment to have helped so few, but pleased to have helped at all. "You and I, Hugh MacRae, have had great ideas, great ambitions. The years are on us, and what we have to show is some persons whose lives are better for us." He wrote they had wanted to help thousands.
Original plans were to save 100 families before the Nazis closed the borders to Jews. "For those who came to North Carolina, as few as they were, North Carolina and non-Jews did what no one else would or could do. They proved, if good people wish to do the right thing, there was a way," Jerry Klinger said.
A greet and meet reception hosted by the Pender County Historical Society beginning at 1:30 p.m. will precede the 2:00 p.m. program. Afterwards, attendees will be invited to attend the unveiling of the marker about 5 miles north of Burgaw.
Pender County Public Library is located at 103 S. Cowan St. in Burgaw. For more information, call library director Mike Taylor at /Blog/240932/New-NC-Highway-Historical-Marker-Recounts-Rescue-of-Jews-from-Holocaust or 910-259-1234.

To see additional photos, click here.