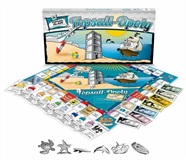 Here's a rainy-day-at-the-beach suggestion: play Topsail-Opoly. A great family-time activity, Topsail-Opoly is a game somewhat like Monopoly, but features local attractions, restaurants, and lodging.
The purser controlling the money is the Blackbeard's Booty Bank. And remember the Treasure Chest cards? These are Blackbeard's Treasure Chest cards and they award money for best tan and surfing contests. They also take money from the players for beach nourishment and donating to the Greater Topsail Area Chamber of Commerce or the sea turtle hospital. TopsailoOpoly features Blackbeard's Treasure Chest and Sand Dollar cards.
When a player lands on the Turtle Hospital Tour, the player collects all of the money in the center of the board. But if a player lands on the Swing Bridge Timeout, the player does not collect $200 and goes to timeout.
Players will enjoy every little nuance the creators have added to the game.
Properties purchased around the board are real life properties on Topsail Island, such as the makers of Topsail-Opoly Topsail Island Trading Company and The Gift Basket.
The board peices are Topsail-related too. Instead of a top hat, players select from sea turtles, dolphin, surf board, a star fish, bicycle or boat.
The best part of Topsail-Opoly are the rules. The game is limited to one hour and the player with the most booty and property wins.
To purchase Topsail-Opoly visit The Topsail Island Trading Company, located at 201 N. New River Dr. in Surf City, or The Gift Basket, 702 S. Anderson Blvd. in Topsail Beach. For store information call 910-328-1905 or 910-328-7111. Shop online at
www.topsailgiftbasket.com
and
www.topsailtrading.com
.