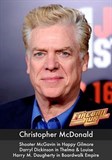 SURF CITY – Character actor Christopher McDonald, known for his role as Shooter McGavin in
Happy Gilmore
, has joined Fireball Run this season. He, along with 50 teams, will roll onto Topsail Island Sept. 29-30 as the entertainment series films.
"We will set one more placesetting for the Mayors' Reception," said Tammy Proctor, the area coordinator for
Fireball Run
. "This is an unexpected pleasure."
"Film stars are no strangers to our region," said Chuck Strickland, director of the
Greater Topsail Area Chamber of Commerce
. The chamber is the host organization for Fireball Run. "We welcome Mr. McDonald and all the guests that the production will bring to the island."
McDonald has played a host of rolls in his acting career, including Darryl Dickinson in
Thelma & Louis
, and Harry Dougherty in
Boardwalk Empire
.
McDonald will join corporate leaders from industry, four astronauts, and four celebrities in Fireball Run 2015: Space Race. Fifty teams travel more than 1400 miles in the Race to Recover America's Missing Children. While raising awareness for children, the teams will explore eight destinations starting in Hartford, Conneticut and concluding at Cocoa Beach, Florida.
"Topsail Island is Day 4 of their great adventure," said Proctor. "The public is welcomed to watch the team arrive on Sept. 29, between 3:30 – 5:30 p.m. Or watch them leave the island on Sept. 30, at 9:30 a.m.
Fireball Run has more than 4 million viewers. The show is available online at Fireballrun.com, from Netflix, Hulu, Amazon Prime and a host of others.