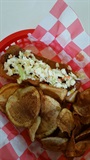 Pender County has a smorgasbord of dining choices. From Bandana's in Burgaw to Sears Landing in Surf City, we are blessed to have the best seafood, barbeque, pizza, and steaks.
We are often asked, "Where do the locals like to dine?" We like Daddy Mac's, Gallaghers Bar and Grill, Beach Shop & Grill, and a host of others that can be found in Surf City and Topsail Beach. But join us as we tour a few of the most unique Pender County eateries. We're taking you off the beaten path on this tour with a family budget in mind.
The first stop is on the Town Square in Burgaw. At Dees Drug Store and Grill, it's like stepping back into time. Climb into a chair at the lunch counter and watch Frances Burn prepare rootbeer floats, ice cream cones, hot dogs, BLTs, egg salad sandwiches and more – all fresh every weekday.
The lunch counter is Americana. Its where Burns serves fresh pies and hot coffee, homemade soup in the cooler months, and where the customers become like family.
The lunch counter is open Mondays through Fridays, 9 a.m. to 2:30 p.m.
Dees Drug Store and Grill
is located at 111 S. Wright St. in Historic Downtown Burgaw. It has operated since 1916. How many lunch counters have operated for 99 years? This one's historic and worth the trip.
Down state highway 53, is
Holland's Shelter Creek Restaurant
. The kids will love the view along the river, especially when the boats pass by. Be sure to sit near the window and enjoy the sunlight filtering through the low hanging trees along the river.
Holland's Shelter is a country fish camp. It offers good catfish and seafood. It's rustic. The atmosphere is fun and different. And if you want to rent a canoe, just step outside the door.
Holland's Shelter is located at 8315 NC Hwy 53 East in Burgaw.
In Rocky Point, also along the Northeast Cape Fear River is a small white building with a screened-in front porch. It's called
Lanes Ferry Dock and Grill
.
It's country. It's laid back. It's the kind of place where the locals chat across to the next table with their neighbors.
Children accustomed to fast food joints will enjoy the bustle and fast service and food that's hot and delicious, ordered to your taste. Big Mac, the owner and operator, is known for his barbeque, which is only available Fridays and Saturdays. During the week, enjoy a hot dog, a burger, a cheesesteak sandwich and more. They make homemade potato chips that are excellent.
There's seating outside in a picnic shelter. The gravel driveway leads to the river and dock.
Lanes Ferry Dock and Grill is located at 11016 Hwy 210 in Rocky Point. The restaurant is opened for breakfast from 6:30 to 10:30 a.m., and lunch is served from 11 a.m. to 2:30 p.m. Closed Sundays and Mondays.
These are just a few of the delicious off the beaten path eateries. For more suggestions, visit
www.visitpender.com
.