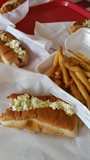 Burger King recently announced the fast food restaurant will offer hot dogs. In Pender County, we have the king of hot dogs – Paul's Place Famous Hot Dogs.
Since 1928, Paul's Place has been a local favorite. Located at 11725 US Hwy 117 S, in Rocky Point, the Paul family opened a restaurant to serve fried chicken and barbeque.
"My granddaddy cooked hogs on the wood fire," said David Wilson Paul.
His grandfather, A.A. Paul, opened the restaurant, country store and gas station stop, near today's intersection of 117 and route 133.
"He was an interesting fellow," said David Wilson Paul, who currently runs the family business. "He was a tent revivalist Baptist preacher, ran a theatre in Jacksonville (North Carolina), and sold real estate in Florida."
A.A. Paul was famous for his barbeque. But the family recipes of chicken and pastry, and homemade pies were local favorites too.
But in 1937, a new family tradition began. David's father, Beverly Paul, started selling hot dogs. A hot dog in 1937 sold for 5 cents each. Paul's Place offered a special chili sauce on the hot dog that was extremely popular.
"Buses of workers headed to the Wilmington Shipyards stopped by," said David. "They needed food and they needed it quick."
However, with World War II came rationing and shortages. Hamburger, the main ingredient in the chili sauce, was in short supply.
In 1943 Beverly met with a representative of a large pickle manufacturer in the region.
"Within two hours, Dad had created our sweet relish," said David.
The Paul's Sweet Relish is now famous and sold across the country. While David mixes up relish for the restaurant, the pint and quart jars that are sold are distributed by Golding Farms.
"We ship Paul's Sweet Relish to restaurants – today there's a shipment going out to San Diego," said David.
He is a stickler about using products from North Carolina and he likes dealing with North Carolina companies such as Clark's, Golding Farms, and others.
"Everything I can, I buy local," David said.
David is a local favorite at festivals and events. With Paul's Place mobile kitchen, the company will serve as many as 3,000 hot dogs in a day at the NC Blueberry Festival. They attend the Mt. Olive Pickle Festival, air shows, music events, and grand openings too,
"We sold 10,000 hot dogs one summer week at the restaurant," said David.
Paul's Place is open seven days a week, 6 a.m. – 9 p.m. They're open till 10 p.m. on Fridays and Saturdays. The restaurant serves breakfast, breakfast sandwiches, and a variety of lunch items.
He said Paul's Place remains a favorite stop when corporate leaders come to Wilmington.
"We've served customers from London, Japan, and around the world," said David.
Customers can order a hot dog with the famous relish, chili, mustard, ketchup, slaw, cheese, and onions.
So how does David order his Paul's Place hot dog?
"I like it all," he laughed. "I like it every way there is."
Pender County's Paul's Place Famous Hot Dogs doesn't show any sign of fading away. David sees future generations from the Paul family continuing the famous tradition.
For more information about Paul's Place Famous Hot Dogs, call 910-675-2345 or visit their
Facebook page
.